Adult couples cams – Hot or Not?
Here at the adult cams blog we talk a lot about hot solo model cam girls. As the site has slowly grown and I have received feedback from you I have learned a few things.
1- Chaturbate is your adult cam network of choice followed by MFC (freecamsexposed).
2- Your favorite body parts on a cam girl are tits and ass.
3- You prefer free cam shows but like the token model that cam networks like Chaturbate offer its members.
and
4- You follow popular cam girls like Aspen Rae closely and panic when you can no longer find them on your favorite cam network anymore.
With that being established lets move on to couples cams. What do you think of couples cams? Are you into them or does seeing another mans frank and beans hurt the vibe for you? Personally I think it depends on how the live sex show is presented. It is all about the couple being able to keep the focus on the girl and not the guy. It can be very hot to watch a girls tits bounce as she gets railed by some dude. It is not so exciting watching a rear cam shot of a guys balls bouncing off some cam girls ass. I don't need to see his junk I want to see her. If I wanted to watch that type of sex action I would just go view some porn movies on the countless porn sites on the web.
Good: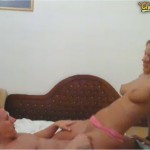 xTarzanJaneX's couples cam on Chaturbate. This smart dude is laying down and letting his hot babe do the work. She is the focus of the fucking. We can watch her hips gyrate and her titties bounce without having to see much of him. We can direct the action with tips like we are porn directors. This is good stuff.
Not so good: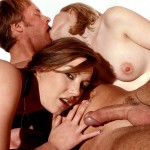 Okay cool he is doing two chicks at once  (thanks to IMlive for the grab). I will give him points for the threesome but why is the cam focused on his cock and balls. Back to the two babes please!
Your adult cam homework this week. Check out some of the couple cams at Chaturbate and MFC (FreeCamsExposed) and contact me with your opinions on these type of live sex shows. If they float the boat for a majority of you I will feature more of them in the near future.