Chaturbate adult cam tippers get some recognition
Chaturbate is now recognizing those of you adult cam lovers that actually toss a few tokens at the cam hosts (or at the very least purchase tokens). If you are an active tipper of at least 50 token within the past 24 hours you will appear dark blue in cam chat. If you have tokens but have not tipped that much yet your handle will appear light blue. All other users/lurkers will be grey.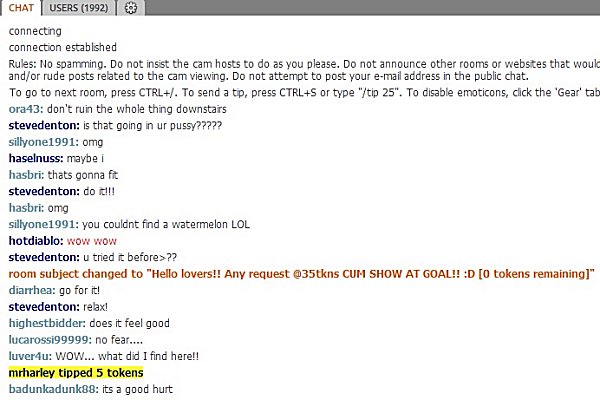 You can file this under "who gives a fuck" if you want but this is something chaturbators should pay attention to. The cam girls and moderators appear to be watching this closely in most of the rooms I have been in. I can't say I blame them. What cam girl wants to sit on cam ramming her pussy with a sex toy for a bunch of guys that don't intend to toss a few tokens her way? I don't want to spend anymore time on this but I will say that I was treated a lot differently as a dark blue active tipper in the cam rooms then I was as a non tipper in my tests. Load up on those tokens guys and test this for yourself.
Moving on… here are some cam girls worth mentioning this week.
Chaturbate – agent99 – This fun and crazy mature babe (over 45) has massive beautiful tits and is off her rocker in a great way. She was chaturbating in her car flashing for tokens while people were walking by. She is just as crazy at home. agent99 is a character you don't want to miss. Pure fucking adult cam entertainment.
Ifriends – DoubleTrouble – Samantha here likes to be tied up. This tall slender 23 year old beauty is off the hook in private chat. Not only is she a quality cam girl but she comes to you in HD.
PrivateFeeds – SpankyAss2 – Athletic and horny all the time. This is one of those firey Romanian adult cam girls that can never get enough sex. She spends huge amounts of time in live cam chat helping her members get off.
FreeCamStars – Rocio – This super hot 25 year old sports a beautiful shaved pussy that she just loves to show off. A real squirter that cums often in free cam chat. She is one of my favorites on the FreeCamStars adult cam network.
Now I have to go deal with a snowed in driveway from a massive ass snow storm pounding us here in the North East US. Have a great weekend.