Free Cam Stars is the latest free adult cam network
Free Cam Stars is one of the latest and greatest adult cam networks to hit the web. Admittedly I have been slacking a little bit as this was launched in early September of this year and I haven't told you about it yet. In fairness I was doing my due diligence before I allowed it to grace the pages of the adult cams blog. After spending some time in free cam and private live sex chat I am now comfortable labeling it as a very solid free adult cam network. I am also familiar with the crew that is behind Free Cam Stars. They have been in the adult business longer then I have and know how to put out quality adult entertainment products. The Free Cam Stars network is no exception.
Free Cam Stars isn't reinventing the wheel. The cam network is a token based system similar to Chaturbate and MFC (FreeCamsExposed). This is a true free adult cams network. You are in total control of how you dish out your tokens. The one major difference between Free Cam Stars and Chaturbate is Free Cam Stars caters to female chat hosts only. You will not see any men on the network. This is good news for those of you that don't like skimming through a cam network only to catch an eyeful of a guy wanking his sausage. This is a pussy only cam network. The categories are broken down by Cam girls 18-22, College Girls, Housewives, Amateur Models, and of course Adult Stars. Even for a new network the adult stars section has over 450 cam stars. I am guessing this why they call themselves Free Cam Stars.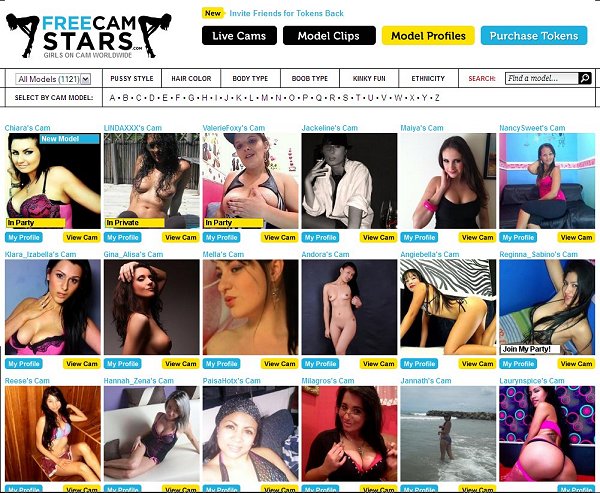 You can further break down the cam girls by pussy style, hair color, body type, boob type, type of kink, and ethnicity. These options are all across the top of the page in plain site. Navigation is super easy. You can wank with one hand while only making a few clicks with your other to find what you are looking for.
Now because the site is new you will not always find a ton of cam babes online at the same time. I have seen anywhere from 20 some to near 100 depending on the time of the day. This will grow as the network grows. They currently have over 1100 hosts so as Free Cam Stars gains exposure the hosts will be online more often and the overall numbers will grow.
Don't let the lower number of online girls discourage you. I have a little secret for you. The cam girls that are online are EAGER to please. Remember this network is built around the FREE CAMS model. Because the network is so new you can get amazing free cam shows because the models are trying to gather new fans. I of course always tip. The token system is very simple and just like Chaturbate tossing a tip into the mix just takes the show to a higher level.
Joining is 100% Free. To create an account you chose a Chat Name, Password, and enter a VALID email address (you will need this to confirm the account). After you fill out the form you will get 10 free tokens just for validating your email address. That is a sweet little offer to get you started.
Once you are a member you can watch all the free cam shows you want. Being a smart adult cam watcher you will of course want to purchase some tokens so you can tip (or take private) your favorite cam girls once you have located your favorite flavor. Tokens are fuckin cheap as hell and go a long way. They have 9 different token packages 4 of which give you free bonus tokens. I loaded up with 1000 tokens and have been playing with that for several weeks. It doesn't take many to get these babes naked and freaky.
Now when it comes to private shows you have a couple of different options (Private and Super Private). We are going to get into this more another time. For now I want you guys to dig deep into this free adult cam network and send me your feedback. Soon I will start featuring cam girls from Free Cam Stars just like I do with other cam networks. If you find a cam girl you like let me know about her. I will check her out as well and possibly feature her here. Lets have some fun with this. Go Here to create an account for Free or simply use the kick ass form below.
Enjoy the eager to please babes. More on Free Cam Stars to come very soon.
UPDATE 4.5.2013 – Free Cam Stars now in Partnership with Streamate. Read the details here.