The Ifriends adult cam network still going strong after 17 years
I receive a few emails each week wondering why I don't feature Ifriends or Ifriends cam girls on the adult cams blog. I really don't have a concrete answer for that. I figured Ifriends was one adult cam network that you guys had a firm grasp on being they have been around for almost 17 years. Then I got to thinking you 20 somethings may not be really familiar with this block buster adult cams network. Back in the late 1990's through early 2000's they were featured everywhere. You know how you see LiveJasmin on every damn porn site now? Well Ifriends was kind of like that back in the day.
In recent times Ifriends has been quietly doing its thing. Established in mid 1996 this is one cam company that pre-dates my career in the porn world. What Ifriends lacks in recent press it makes up for in long standing quality. High end cam girls broadcast on the network on a regular basis. At any given time you can find between 100-300+ cam girls live and ready to go. The search menu along the top of the page allows you to search by multiple ages, ethnicity, kinks and of course porn stars. You can find gems like Taylor Stevens TAYLORSTEVENS00, Lori Anderson HOTYOUNG1 and Hailey Young HAILEYYOUNGXXX doing free live sex shows on a regular basis. And those are just a few that I follow. You can find plenty more.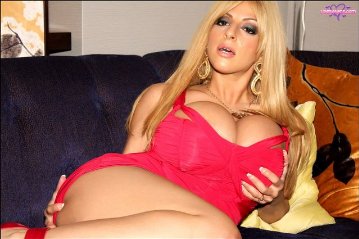 One difference with Ifriends from other adult cam networks is that Ifriends is not as liberal with free cam chat. You at the very least have to be a free member to view most of the cams. Those that like to lurk may not enjoy Ifriends like they would a cam network like Chaturbate. Joining is free though and the additional amenities you get when you become a member far outweigh the 1 or 2 minutes it will take you to sign up. Once you are a member you get access to all the cam girls on the network. The cams on Ifriends are high quality video and audio with plenty of viewer options such as live chat with Cam2Cam. Not only can you watch your favorite adult cam performer she can watch you as well. This is a kick ass option that many guys just love. In addition you get access to millions (yes millions) of photos and videos many of which are HD.
You access the pictures and videos is through each chat hosts fan club (which you can join and and become an active member of). HERE IS A SAMPLE. The social aspects of the fan clubs make for a great user experience. Not only are you camming with your favorite cam girls but you are getting updates on whats going on in their lives, getting fresh pictures and videos, schedule private cam shows (many give large discounts for club members), phone to phone and email options, get notified when they are live and much more. Some of the models charge a few bucks to be a club member or only grant membership to those that spend some time with them each month so you will want to surf around and pick and choose your favorites when it comes to utilizing this feature. It is important to note that the initial fan club page serves as a profile as well. You don't have to join a specific fan club to learn more about a cam girl. Just view her main fan club page for her details.
The network itself is geared more towards private cam shows. It is more of a one on one experience as opposed to 900 people in a free cam room cluster fuck. You can talk to the host before going private to find out what they will and will not do. I have found that most will do just about anything.
Now before you can really explore the Ifriends adult cam network you need to join. Ifriends offers three different membership options.
Club Elite – 9.95 per month
Premium VIP – 6.95 per month
Free VIP – As long as you are watching just one show a month you get Free VIP access to the entire network. If not its 6.95 per month.
You get a boat load of benefits with the Club Elite and Premium VIP memberships for next to nothing. The monthly fees that Ifriends charges for these special packages are less then what just about any avid cam viewer would spend in a couple of minutes of private chat on another cam network. Some of the features include live capture, full screen HD, and multiple cam viewing. Here is a screen shot of all the benefits.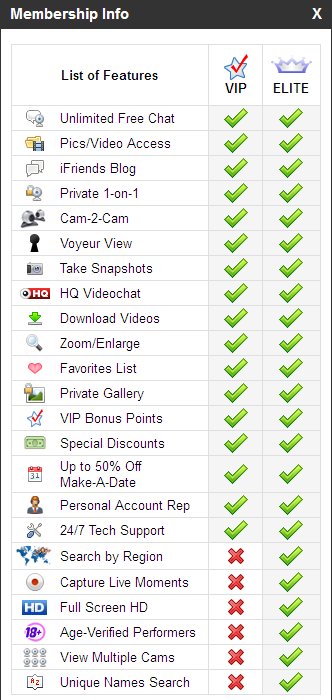 If you are not an IFriends member already you will find that they are a high class network with tons of special features designed to take your camming to the next level. Your home work this week is to join the network and explore. Get to know the basics and find a few cam girls that get your rocks off. Those that already have a membership let me know who your favorite Ifriends cam girls are and I will start to feature them here for all to enjoy.