Get those Private Feeds cam girls naked
I received an email from an adult cams blog visitor wondering if I have ever heard of the adult cams network called Private Feeds. Also if I had what did it take to get the cam girls naked on the site. The answer to his first question is yes. I am aware of Private Feeds. We talked about them briefly in April of last year when I found a cam girl that looked just like Reese Witherspoon. Check out the post and pics here.
Regrettably I haven't posted about Private Feeds since then because I have been so focused on Chaturbate and FreeCamsExposed. After reading his email I went to Private Feeds and found things are really hopping on that adult cam network (what the hell had I been waiting for?). This prompted me to put Private Feeds on my "to do" list for a review. I also just listed them in the Adult Cam Sites section in the right margin so we won't forget about it again and you guys can begin exploring this established long standing cam network.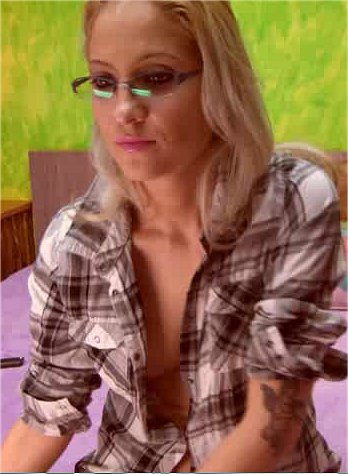 The email made mention of a chat host that goes by the handle AlwaysOnTop (the hot blonde on the left). I looked her up and this is one fine ass Romanian babe with a super sexy athletic body. She is into fitness and music, her favorite food is salad (gotta love a healthy cam girl), she loves to fuck in all positions (despite her nickname), and she looks smoking hot in glasses. This is my kinda cam girl as well.
The main question was how does he get this hot cam girl naked? Well it is really pretty simple. Take her private. Adult cam networks like Private Feeds don't always give the same free cam shows you would see on the Chaturbate network. This is both good and not so good. The not so good news is you don't see a whole hell of a lot in free cam chat. The good news is when you take a private feeds cam girl private you are going to get one hell of a live sex show. Now I should also point out that they do strip down more in what private feeds calls member chat. After going back and forth with the guy that emailed me it turned out he didn't even have a free membership yet. WTF dude. Sign up it's friggen free. You get 5 bonus tokens just for signing up. If you add tokens right away you can even get more bonus tokens but that is entirely up to you.
Once you have your membership you can partake in the member chats and of course take the cam girls private with the tokens you have the option of purchasing. I do like the member chats because all the "riff raff" is booted from the room. You don't have 100's or 1000's of guests clogging up the chat with stupid requests and moderators going ape shit trying to keep order. The interface is super slick and fast as well with little to no lag at all. The chat hosts are in great moods and the live sex shows are outstanding.
Now thanks to my obvious advice my email friend is getting AlwaysOnTop and the other cam girls on Private Feeds naked. I think you guys should check them out as well. I am reinvigorated about this network and will start to feature more of the cam hosts going forward. Check out Private Feeds and get your live sex on.