Pornstar Savannah Steele free cam show at Chaturbate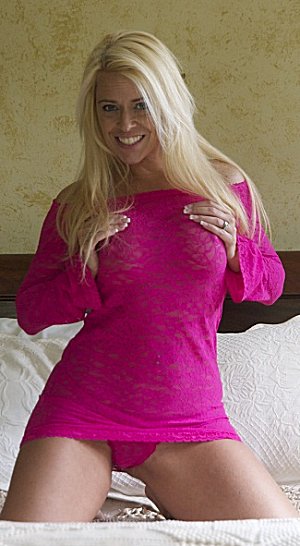 Savannah Steele the hot blonde MILF pornstar is coming to Chaturbate for a special free cam show on Thursday December 6th at 10PM EST. Savannah is a natural big breasted (34DD's), blonde haired beauty with super sexy curves. This 42 years young Cougar/MILF still has youth but also tons of experience on her side. This free cam show like many of the other special pornstar adult cam shows featured at Chaturbate is expected to be off the hook.
Savannah (or Savie for short) was featured in Cougars Gone Wild and has been in many adult porn flicks. Her most recent were Lesbian Triangles 25 and 26 in 2012 and Lesbian Sex 2 in 2011. I personally love watching this 5 ft 2 firecracker roll around with other hot women. I cannot wait to see what she has in store for us with her free cam show.
To get access to Savannah Steele's free cam show go to her Chaturbate profile and follow her. For you chaturbate newbies create an account here. The follow button allows you to follow your favorite cam hosts. You will be notified by email when she is online getting freaky on cam. You will find the follow button on the upper right hand side of her profile.
As a huge added bonus Savie has several videos in her profile that you can access right now for just a few tokens. Plenty of girl on girl fun, blowjob, and some Holiday themed sex videos. These videos are great for those of you that may not be familiar with the amazing Ms. Steele. Get to know her hot body in and out by watching her videos before the free live sex show on the 6th.
Do you want to text with Savie anytime of the day? She explains how you can do that as well as get access to her on Skype. Hell you can even get a pair of her panties. Check out her profile for yourself. The amazing Savannah Steele is pulling out all the stops. See you at the show on December 6th!