What can cam girls do to turn you off?
Cam girls come in all shapes, sizes and ethnic backgrounds. Some are into toys others into straight up fucking on cam. We all have our likes and dislikes when it comes to adult cam girls but can a single negative outweigh all the positives.
Case in point. We have a 25 year old super sexy brunette squirting cam girl straght out of Romania. Her face is perfect, her tits are round and firm, and her body is simply amazing. This is the type of cam girl that can make you cum a couple of minutes into a live sex show.
Meet EyesCrystal from Chaturbate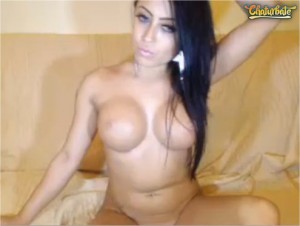 I am sure most of you can agree she is one hot ass cam girl. Easily in the top 10 of cam babes that have graced the adult cams blog.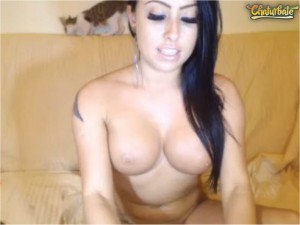 She even has a real cute pussy on the back of her couch 😉 . Now lets throw something else into the mix.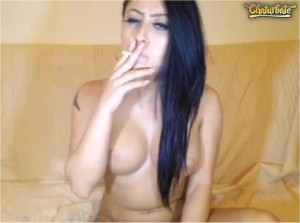 Our cam girl hottie just so happens to be a smoker. Gasp! Is that a deal breaker for you? Would you leave her cam room because it turns you off?
Personally when it comes to cam girls and live sex shows I could give a fuck if they smoke. If they look as hot as she does it makes no difference. She gives great free cam shows and is a squirting machine in private sex chat. I would prefer she whips out a kick ass Opus X cigar over a cigarette but hell to each his own.
If she was a local babe I was kicking it with I would certainly want to tap that over and over but I won't lie the smoking would knock the appeal down just a bit. What about you? Ping me with your thoughts. Let me know what turns you off (if anything) about a cam girl. I am not talking about a BBW if you are into athletic women. I am referring strictly to babes that are super hot to you but do something during free cam chat that makes you click to the next chat host. Smoking, tattoos, farting.. Whatever just let me know.
Moving on. Cam girls in the spotlight this week:
Avn Award Winner and Penthouse Pet Jassie James will be doing a FREE adult cam show on Chaturbate. You don't want to miss this tonight at 9PM EST. Add her to your favorites here and be notified when she comes online!
The kinky ass Scorpio_ho from IMLive is making other cam girls look tame yet again. This week she has the 17 inch black dildo out and shes using it like a champ in her live sex shows. This is some wild cam action you want to check out.
AshlinGrace from MFC via FreeCamsExposed is a brand new to the adult cam world. She is a cute little married brunette with that "girl next door" look. I love her perfect soft curves and I know many of you will as well. Give her a very warm welcome. Search for her on MFC or get your free cam account through FreeCamsExposed.
That is all for now. Have a great Labor day weekend to my fellow US visitors. Have a safe holiday but don't forget to get your cam on. The college cam girls are back in session and are starting to make things very entertaining in the adult cam world. We will touch on some of these hot cam girls in the next update.