Free adult cams even if you paid for private live sex show at IMLive

I am sure you read that sentence a couple of times and think it makes no sense. Technically it doesn't. If you pay for a private live sex show how could it be considered a free cam show. Have I lost my mind? Did the 4 hour chaturbate session I did late last night render me unable to reason? What the hell is IMlive up to now?
Hell no I am fully sane (pretty much). What I am talking about is a promotion IMLive is running right now. IMlive the popular adult cam network is running a kick ass special where every single day 12 lucky members get their money back (up to 100 IMLive credits). This kick back happens every few hours. This is a pretty sweet promotion for those of us that frequent IMLive on a daily basis. I am already dropping some credits on my favorite cam girls so if I am fortunate enough to be a winner and get my money back for the day I would be one happy cammer.
Here at the adult cams blog we have talked about IMlive and its promotions many times. If it has been a while since you have been on the network now is a great time to check things out. Things have been kicking ass lately with some of the hottest cam girls, crazy shows, and awesome promotions. IMLive is a two time AVN best live chat site winner as well as the 2011 Ynot best adult webcam company award winner. These are well deserved awards and a huge reason some of the hottest cam girls in the business park their sexy asses on that cam network.
So who are some of my favorite cam girls at IMlive? I thought you would never ask. Lets go over three that really float my boat and I have a feeling would satisfy your cam desires. I should mention that this weekend is the "Gettin' Freaky with Fruit Party". Wait until you see what some of these cam girls can do with a banana.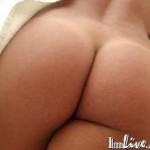 DimpleChin is a 22 year old dynamo with a petite sexy body (36-24-36 screams delicious). She has a beautiful tight shaved snatch and a cute little dimple on her chin hence the handle DimpleChin. To be honest I enjoy her ass more then her chin when watching her live shows though. You might be different. Perhaps you can picture yourself dropping a load of cum on her chin. Fuck if I know but be sure to peep her.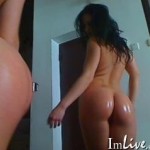 hotpussycat is a bottoms up kind of cam girl. This 5 star IMLive babe is super fit and has a perfect ass that she is so damn proud to show off. Rated "Most Fun" her ass takes adult cams to the next level. Add her to your favorites and see if you can handle the fine ass fun hotpussycat has to offer.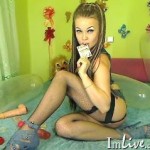 Now I am not sure why I am showing you angelaspeachmmm. To be honest I am not sure many of you can handle this wild 30 year old cam pro. angelaspeachmmm is a pierced, tattooed, and shaved cam girl that takes her adult cam shows very serious. I seriously think she could deep throat Ron Jeremy with no problem. A true pro that will leave newbie cammers wondering what the hell just happened. Check her out if you dare shes playing with a banana as I post this.
So it is time for you to go watch these hot cam girls get freaky with fruit. And who knows you may be the next one to get all your money back. If not who cares you will still have a fuck ton of fun.