ValMidwest to give free live sex show on Chaturbate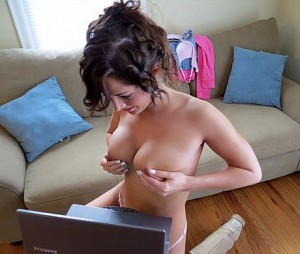 The famous Nebraska cutie Valerie Dodds known as ValMidwest will be giving a free special feature live sex show on the Chaturbate adult cam network. The show will take place on Thursday December 5th at 10 PM EST.
ValMidwest is known for pushing the limits in the sex industry with her carefree ways. This past November she was found guilty of trespassing and public nudity after doing a porn shoot outside her old campus. Val says she did the shoot to get revenge on the students, alumni, and teachers who bashed her when they discovered her role in the porn industry. This is my kind of woman – Sexy and feisty!
ValMidwest is the December 2013 Hustler magazine cover girl. If that is not incentive enough to check out her live sex show she will also be giving away a signed copy of the magazine during it! This is one cam show no adult cam blog visitors should miss. Be sure to follow ValMidwest here. You will be notified via email when she is online and ready to roll. Enjoy the show, I know I will.