Need more cam site reviews
Hay Adult Cams Dude Where the fukc have you been? Update sitewith more cam site reviews!
That is the email I received yesterday. Yes I have been slacking. Shit my last update was featuring Lilly19YO back in August!
No I didn't run away with a cam girl I have been just balls to the wall busy with work. I did think about you guys though and had one of of my colleagues write the cam site review of Slutroulette back in September. That is a pretty good write up isn't it? Have you guys been playing Slut Roulette? Did you even try the site? If you haven't you need to check it out ASAP. It is a ton of fun.
Speaking of that cam site review I will have more of those for you. If things stay busy for me I am going to have my colleague review several of the cam sites and some of the hottest cam girls this way we don't go long without updates. He really enjoys writing detailed reviews. I am more into just pointing out the hot cam girl pussy and letting you have it. Perhaps the mix will cater to more of you adult cam lovers out there.
Back on the subject of hot cam girl pussy. Check this shit out.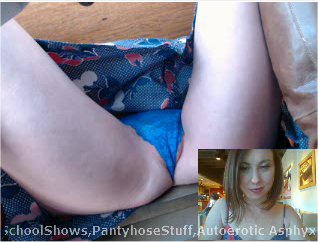 This is Fridays_Child from MFC. She is a crazy 31 years young hottie from some small town in the good ole USA. She was doing an under the table cam show in a crowded cafe. The goal was to get her out of those panties to expose her wet snatch and swollen clit. What made this particularly arousing were the people walking by, saying hi to her etc all while she is playing with herself under the table for 500+ horny dudes in a cam room. You can hear the plates clinking and coffee being made the entire time. Funny and erotic at the same time. I am not sure if she does these type of shows all the time but check her out when you get a chance.
When I get some free time I will do a model highlight of her. I want to pop in on her a few more times to see what other crazy things this cam girl gets into. Until then yes I am alive. Be sure to keep your eyes open for new adult cam site reviews. More coming soon.