IMLive cam girl claims these amazing melons are real!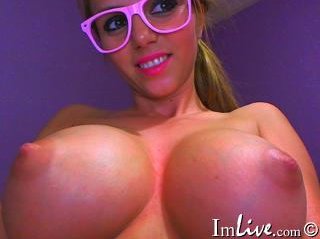 Are these tits real or fake? What do you think? The other day I cruised on over to IMLive and found nastyblonde4u who without question lives up to her namesake when giving her live sex shows.  Her big tits and hard erect nipples caught my eye so I went into free cam text chat to shoot the shit before taking her private. I didn't even bother to look at her profile. I planned on telling all you loyal adult cam blog readers about how amazing her private live show was. To summarize it she did some amazing things with those big knockers and her equally hot shaved snatch. I went to her profile to get you some specifics on this amazing cam girls body and was shocked when I read that her tits were real. Now I am side tracked. Can this IMLive cam girl be telling the truth?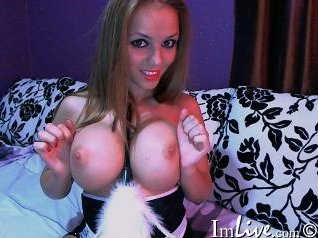 We never discussed whether her tits were real or not during her live sex show. I just assumed they were fake. I mean these boobs are fucking near perfect. I have never seen perfect natural tits quite like nastyblonde4u's. So instead of talking about the cam show (you can check her out yourself to see why she is rated 5 out of 5 stars by over 1700 of her live sex show viewers) I wanted to check with all of you. Am I going insane or do these perfect knockers look fake or could they indeed be real.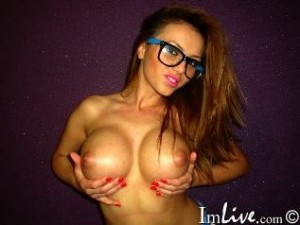 Let me know what you think. For you detectives here is a link to her profile. Check out her pics and take her private for a kick ass live sex show. Ask her to put those "real" tits to work for you and report back and let me know how it went.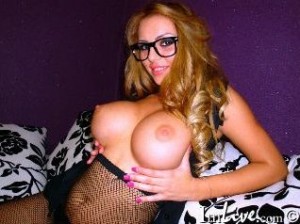 On a related note IMLive is throwing a "Secret Agent Party" this weekend through Monday at 3am. I am sure this is to celebrate the 50 year anniversary of James Bond movies. All the cam girls are going 007 on your ass in live sex chat. Who doesn't love all the hot babes Bond gets to tap. Now you can live out some of those fantasies. Shocking! Positively shocking!