Free Cam Show with the amazing pornstar Mariah Milano
I just wrote about the amazing adult cam pornstar Mariah Milano on February 29th. This is one sexy cam babe with a huge following. I received a lot of positive responses about her and knew I would be writing more about her soon. If you have seen one of her live sex shows you know she leaves a lot to talk about. At the same time she leaves many speechless as well. She is just that good.
Regardless I did not think I would be posting about Mariah this soon. We will have to consider this an adultcams news flash. Today I am surfing the webcams.com network and I see this huge banner running across the top of the site that just screams at me. Before I even bothered to read the text on the banner I said to myself "Hey I know those amazing big breasts and smoking hot ass". Then I took the time to read it. Free Cam show with Mariah Milano for all members. JACKPOT Free Cam Show!

This is a quality free cam show guys. March 12th from 8 PM to 11 PM EDT Time. Any adult cams lover from the rookie to the adult cam connoisseur knows a free cam show with this busty pornstar is a true gift from adult cam gods. That is a full three hours of adult cam greatness. This Sicilian bisexual EXPERIENCED babe is going to blow our minds on Monday. This woman is in over 600 porn videos. Trust me when I say she knows how to satisfy a crowd during her free cam shows. I have seen it with my own eyes on several occasions. I have a strong feeling hundreds of men will be heading to bed extremely satisfied that night.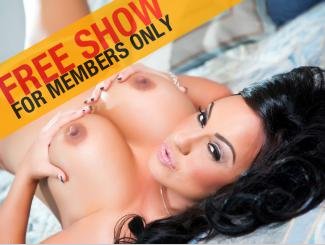 I won't ramble on but I wanted to be sure none of you missed this free cam show. Again you can read more about Maria Milano right here. If you don't have an account head on over and get your free webcams.com account here. I will see you there.