The adultcams favorite cam girls for this week both come from Chaturbate. I posted about this adult cam network on Friday and ended up spending most of my weekend on the site. I found two super hot cam girls that made my top list for the week. I want you to enjoy these two sexy cuties as well.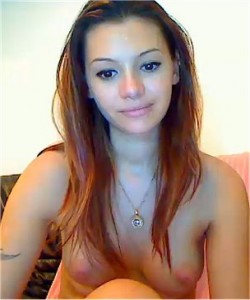 At first I was going to keep nightseduce a secret but I figured that would be a bit greedy of me. This 23 year old Romanian beauty is the perfect combination of cute, sexy, and sweet. She has a gorgeous face with captivating eyes. Moving down the body of this amazing creature you will find perfect perky tits, a spectacular ass, and overall tight body.
I first noticed that beautiful face while I was surfing the chaturbate network. I said to myself I need to check her out. It seemed like no matter what time I was on she was on as well so I finally popped in for a closer look. Nightseduce is a what being a great cam girl is all about. Sweet, courteous, and of course very eager to please. To top things off she seems to be on all the time. Whenever I needed my Romanian cam girl fix this weekend she was there to take care of me. Tip her guys and she will take great care of you. You can find her on Chaturbate by searching for nightseduce or just follow this link here directly to her chaturbate room.
Sweet_Desire is another smoking little cam babe who's beautiful face first caught my attention. Shes a sexy 21 year old from Europe with a no nonsense attitude that loves to have a blast on cam. She has a tight shaved pussy, perky tits, and as you can see from the screen grab to the left a perfect ass just ripe for a fucking. Sweet_Desire is the type of cam girl that you can get to do just about anything if you treat her right. If you try to be a dick in her cam room she will kick your ass. She doesn't put up with bullshit but that makes her even more attractive.
For just a few tokens the panties come off and her she vigorously fingers her hot wet box (see the screen capture I took during one of her shows). A few more tokens from the room and out comes the sex toys. A few more tokens.. and things get real crazy. If a fresh 21 year old hottie with just the right amount of attitude floats your boat then Sweet_Desire from Chaturbate is for you. Hit the Chaturbate network here or go directly to this hot cam girls room here.