Cam shows are sometimes lousy. That is okay get over it and check out the quality cam girls instead.
Via email from JohnnyP
Question: Hey adult webcam guy. I was curious if you ever talk about real shitty live cam shows? Do you ever watch any real bad shows? It seems like all you talk about is the good ones. I wasted some tokens the other night on a real bitch that didn't do what she promised. After the private show I was kicked out of the free chat room for trying to tell others. Can you out XXXXX for giving such a shit show? Post her pics and shit so guys don't waste time with her bitchy ass. I work weird hours so I seem to have a hard time catching the cam broads you post here. I keep getting boring or dumb ones. Help.
Answer: Hello Johnny. I am assuming you read my cam etiquette section and that you were following proper cam show etiquette and didn't get booted for breaking any rules. Yes I run into my share of bad cam girls. I don't post about them here because I am trying to keep a positive vibe going on this blog. I prefer to post about quality live sex shows as opposed to the lousy ones so you guys know which cam girls to check out.
Now that doesn't mean I won't out a cam girl if she is doing something very wrong but for the most part I haven't seen anything that the cam networks don't handle rather quickly. I won't talk about the cam girl you told me about in your email because I don't want to give her any free exposure. Bad exposure is just as good if not better then good exposure. Some of my more subservient visitors may go give her next weeks pay check because they like to be treated like shit. 😉
Yes I have seen some lousy cam shows. But sometimes that chat host is just tired or in a crappy mood. They shouldn't be on cam but what can ya do. Some of the cam girls have elitist attitudes as well. When they start out small they throw perfect entertaining live cam shows. As they gain followers and get gifts and some extra dough they let it go to their pretty little heads and start getting cocky. These girls will have you booted from free cam chat for saying the simplest of things by over zealous moderators who are often kiss ass man slaves. They don't care they don't need you at that point in their cam career. These chat hosts I avoid.
Even here at the adult cams blog I run into some of these cocky cam babes. I feature them when they are starting out. A few months later when they are bigger they start sending me emails stating they don't like the verbiage or pictures I used to feature them. That is part of life though. Money and a bit of notoriety do weird things to people. Look at the college ball player gone pro (any sport will do). A lot of them can't handle the money, get super cocky, and end up blowing all the cash while going off the deepend. Fuck it I don't care. They don't add any value to my life.
The bottom line is we have thousands of cam girls and hot cam shows to watch at any given time. Lets ignore the bad eggs and have fun with the great ones. One little tip for you is to stick with some of the newer cam girls if you are on a bad run. Cam networks like Chaturbate show how many followers a cam girl has in her profile. MFC (FreeCamsExposed) puts *NEW MODEL* tags in bright yellow on cam girls new to the network.  I have found that newer chat hosts just love to please. Sure you may miss some of the crazy action you will get from a cam babe that really knows how to perform but a raw live sex show from a newbie can be off the hook just the same. Give it a try for a few weeks and you will see what I am talking about.
In closing this week I want to give a shout out to Chaturbates roadfreedom. This 27 year old European cam babe is a sexy, flexible little spinner that seems to have the foot fetish lovers falling all over her. I am not big on feet but I used to help run a foot fetish site and I know you guys that are get into it pretty hardcore.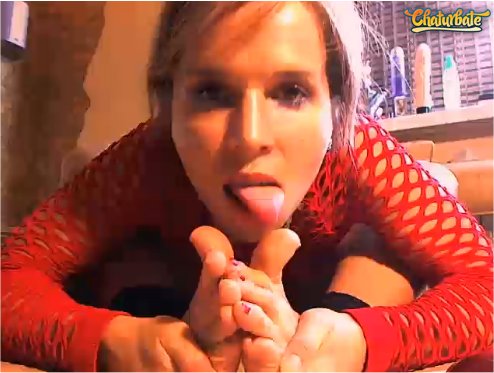 If you are into feet or sexy spinners give roadfreedom some token love this week. She throws a great free cam show as well as stellar private shows. She has an arsenal of toys. Be sure to ask her to use them (ALL).