The delicious Ashley Doll live on cam at Chaturbate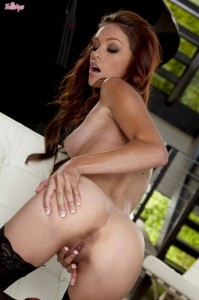 Move over Cougars you have a barely legal player coming to conquer the adult cams world. The amazing Ashley Doll known to many as Ashley Taylor of Hustlers Barely Legal fame is coming to the Chaturbate adult cam network this coming year. On Thursday January 3, 2013 at 7PM EST or 4PM for you west coast folks (you may need to get out of work early so you don't miss this) Ashley will be giving a free live sex show. Ask questions, tip her, and most importantly watch her get naked! Chaturbate members can also take this tight bodied sexual dynamo into private sex chat. Hell yes what a great way to start the New Year.
For those that don't know Ashely Doll you are in for a pleasant surprise. She is not your typical pornstar. Ashley is more of a glamour model that has graced premier sites like SexArt, Met-Art, and Twistys (a special thanks to Twistys for the smoking photo of Ashley you see to the left). In October of this year she was the cover girl for Hustlers Barely Legal and Finally Legal Magazine. She has a super tight thin body that includes great perky tits and and amazing tight ass you could fit in the palms of your hands. She is what adult cam blog readers would know as a spinner. Watching her put that body to work live on cam will be nothing short of amazing.
Mark your calendars and be sure to follow Ashleys Chaturbate profile page. You will be notified via email when she is online. Start the year off right with the first special event live sex show of the year courtesy of Chaturbate. I am sure none of us will be dissapointed.